It is essential to have an optimizer plugin and speed up site on WordPress websites. Whether your website is a blog or an online store, the speed of the site is important.
Fast websites have higher conversion rates, more user satisfaction, and lower bounce rates. Even if your website has good content, it will not rank well if it is slow in search results.
Low site loading speed can have a negative impact on user behavior on your site. Studies show that even one second more load time can drive users away from your site.
Search engines like Google use the site speed parameter in their ranking algorithms. So if search engine optimization or SEO is important to you, a plugin like WP Speed ​​Of Light can help.
Even if you feel your site is loading fast, there is always a chance to reduce that time.
Check WP Speed ​​Of Light plugin
WP Speed ​​Of Light is a freemium plugin (free and premium version) developed by the JoomUnited team. This plugin is designed to optimize your WordPress site. The purpose of this plugin is to speed up the site and optimize it. WP Speed ​​Of Light plugin Available in both free and premium versions (as an add-on) Has been.
The free version has tools to reduce the loading time of site pages. Its premium add-ons also support more features.
Compare the free and premium version of WP Speed ​​Of Light
The free version of the plugin has the following features:
Page Cache
Select cache display for different devices
Merge Files
GZip Compression
Delete query strings
Browser Cache
Minimal HTML, CSS and JavaScript
Database optimization
CDN Compatibility
Provide a variety of website performance reports for loading times and database queries
If you purchase add-ons for the plugin, you will also have access to the following features:
Compress images
Optimize Google fonts (merge all fonts into one file)
preload cache
Prevent minifi and combine some files
DNS preload
Automatic database cleaning
Advanced cache rules
Lazy Load feature
Clear CDN data
Possibility to disable waves
Gravatar disabled
Ability to load scripts in the footer
Ability to disable cache for some WordPress user roles
Prevent caching of some pages based on PHP commands
WP Speed ​​Of Light plugin features
After installing the plugin, you will enter the configuration steps and the whole process is just a few clicks. However, more advanced users can skip this step and enter the plugin dashboard settings directly.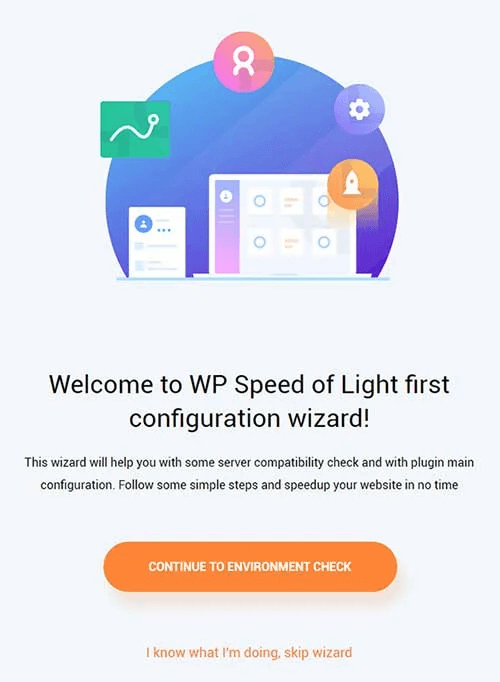 So this plugin provides configuration solutions for both amateur and advanced users. If you select the Continue to Environment Check option, the plugin will start testing different sections of the site to identify issues affecting the site speed.
Site problems at this stage will be displayed as a warning with a ring icon. A description of the problem will also be provided below.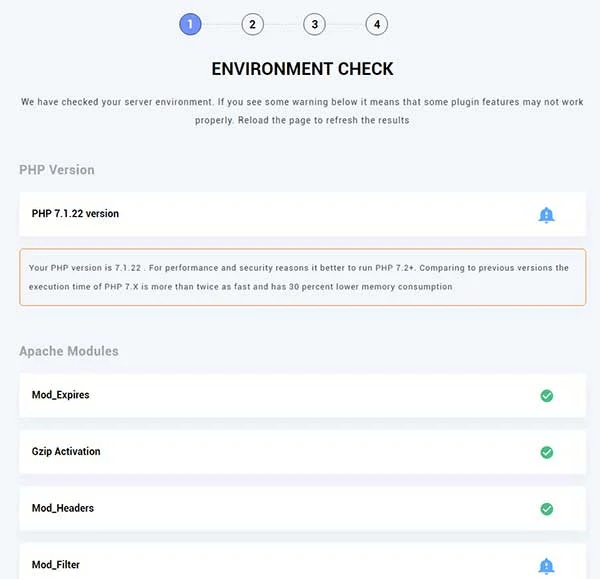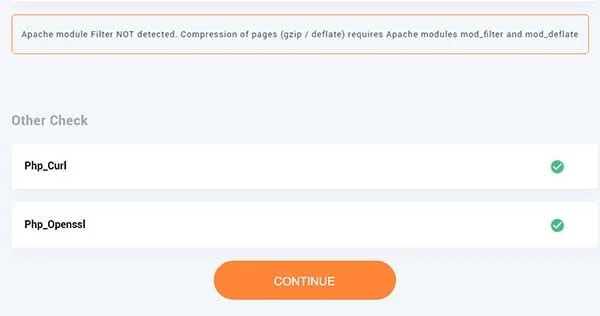 In the next step of the installation you will be allowed to allow the plugin to automatically configure the site. You can also involve yourself in optimization options. Optimizing site performance for amateur users can be a daunting task, so having a button to automate tasks is a great move.
Then WP Speed ​​Of Light takes you to your dashboard, where you can see a summary of what's happening on the website.
>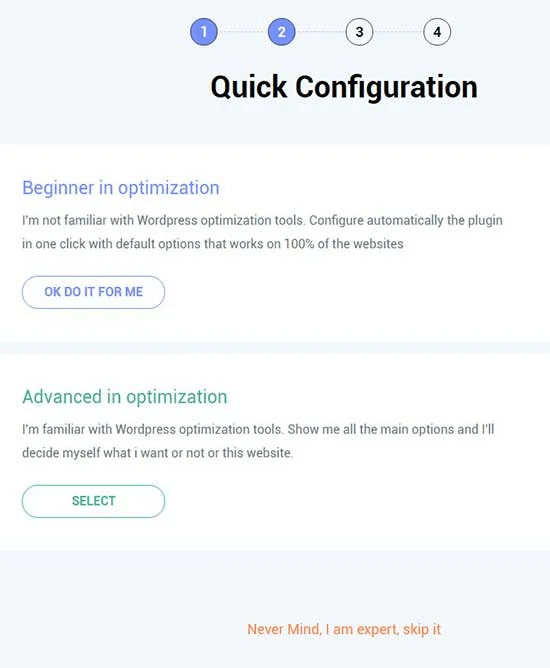 If you select the advanced setting option, you can optimize each part of the plugin. These settings include file caching and minifa.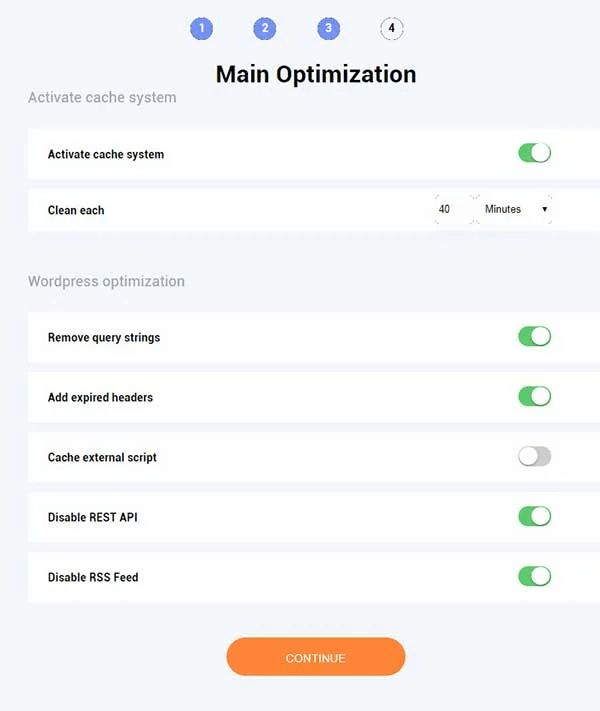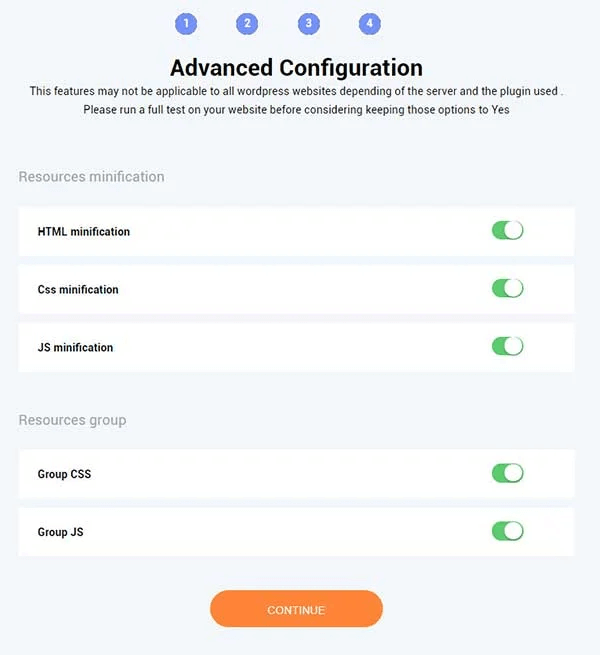 After these steps you will see that the speed of your WordPress site has increased. The settings of this plugin are also available through the WP Speed ​​of Light option in the WordPress Dashboard sidebar. The menu of this plugin also has three options: Dashboard, Speed ​​Optimization and Speed ​​Analysis.
Dashboard menu
The plugin dashboard provides a complete overview of the speed of your website. This information is collected by examining features such as cache activation, database queries, website load time, resource integration, and minifile files.
You can also test the site speed through the plugin dashboard. Other optimization options are also available at the end.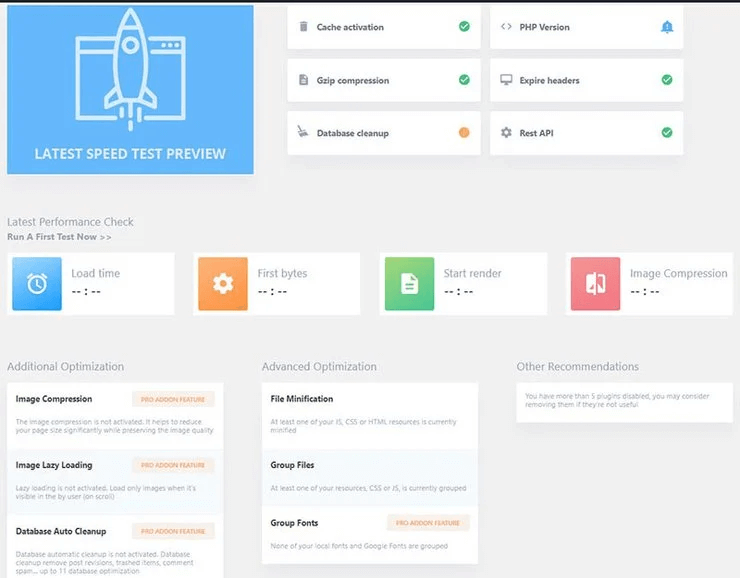 API Key is required to test site speed. It is also possible to select the target page (main page or one of the internal pages) for speed testing. The final test result will be saved in the plugin so that you can compare the new result with the previous one after the necessary optimizations.
Speed ​​Analysis menu
In this section you can monitor the speed of operation of different sections of the site to apply the necessary settings. An interesting feature of this section is the use of the speed testing tool WebPageTest.org. This will also be possible by receiving the API Key from this site. You can use this APY Key to perform up to 200 tests on a domain in one day.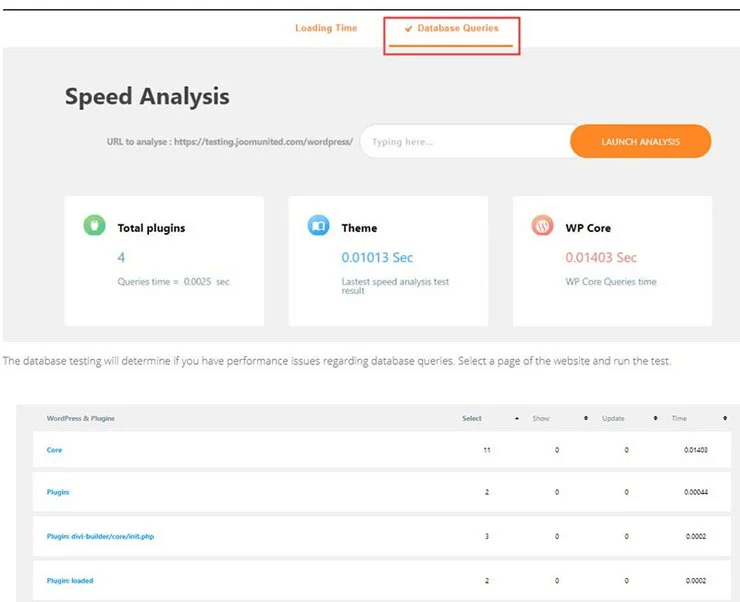 In the site speed test operation, parameters such as primary loading, secondary loading, delay of receiving the first byte, start rendering, cache, GZip compression status and image compression rate are tested. Database testing also shows speed problems associated with database queries.
Speed ​​Optimization menu
This section contains tools to speed up WordPress. These tools are categorized into various sections including Speedup, WordPress, Group and Minify, Advanced, Image Compression, Database Cleanup, CDN Integration, Configuration, and System Check.
Speedup section
Through this section you can activate the most important function of the plugin, namely the cache. Features such as clearing the cache when updating content, deleting query strings, and adding expire headers are also available to speed up site loading.
Other features of this section include HTML, CSS, and JavaScript minifigures, as well as the integration of CSS, JavaScript, and Google fonts.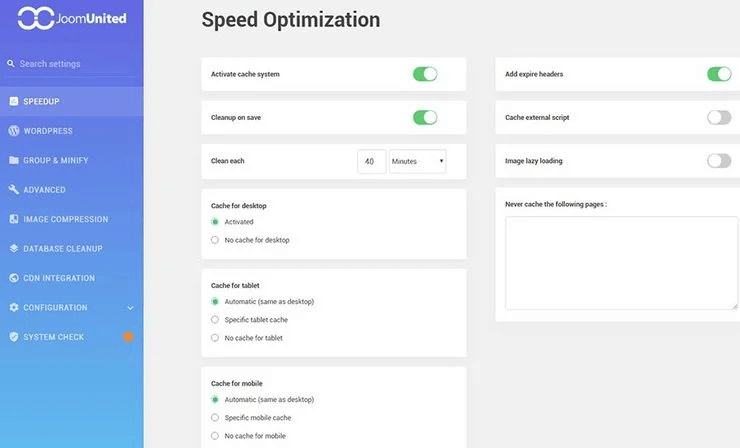 Advanced optimizations include cache preload and DNS prefetching.
The options in this section are described below:
Activate cache system : Activate page cache
Clean each : Clear the cache after a while especially
Cache for desktop / Cache for tablet / Cache for mobile : Disable cache for different devices
Add expire headers : Enable cache for browsers, so that uploaded files (such as CSS, JS and images) stay in the browser for a while Save the user.
Cache external script : cache external resources
Never cache the following pages : prevent specific URLs from being cached
# Features Pro version
Cleanup on saves : Automatically clear cache of posts, tabs, etc. when updating content
Image lazy loading : Enable the ability to load images while scrolling
WordPress section
This section has options for deleting query strings, disabling the REST API, and RSS feed.
# Features Pro version
Remove emojis : Remove emoji-related scripts to reduce resource usage
Disable Gravatars : Disable Gravatars and use local avatars
Section Group and Minify
Minify means removing extra data from site code. These settings can be applied to HTML, CSS and JavaScript files. It is also possible to merge these files together to reduce the number of requests.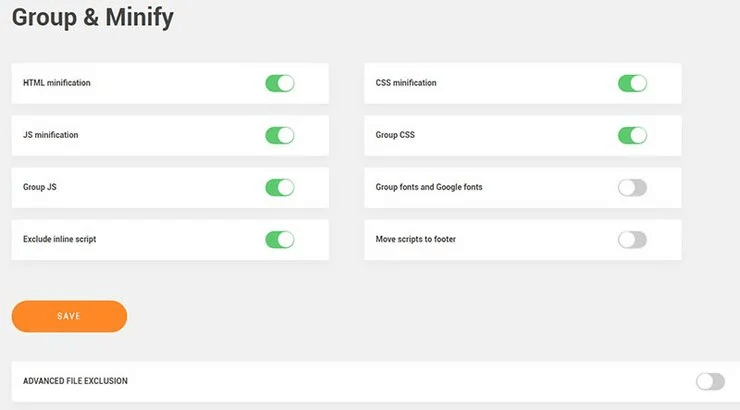 # Features Pro version
Group font and Google fonts : Merge local fonts and Google fonts to load them faster
Exclude inline script : prevent inline scripts from being minified
Move scripts to footer : Move all scripts to footer
Advanced section
Advanced features are only available in the Pro version. In this section you have access to the following settings:
Cache Preloading : Cache Preloading means creating a page cache before the first user requests, so that no user will have to wait for the page cache to be created .
DNS Prefetching : This feature preloads the DNS domain of external links. For example, if your website has external hyperlinks, this feature will open external links faster when clicked.
Image Compression section
In the Pro version, it is possible for you to compress images. This will reduce the volume of the pages and increase their loading speed.
Database Cleanup
There are several tools in the WP Speed ​​of Light plugin to clean up the WordPress database. With these tools you can clear copies, trash posts, spam comments and temporary settings.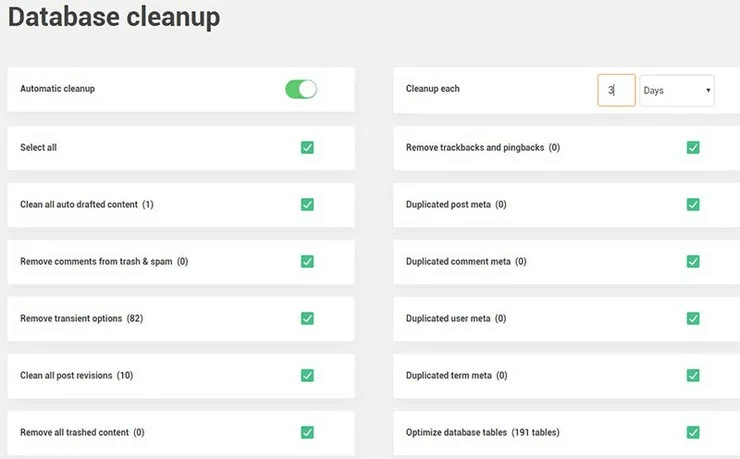 # Features Pro version
Automatic cleanup : Automatic database cleanup
Cleanup each : Determines the frequency of automatic database cleaning
Remove duplicated post, comment, user, and term meta : Remove duplicate posts, comments, users and duplicate meta data
Optimize database tables : optimize database tables
CDN Integration section
In this section you can enter the purchased CDN information and enjoy its benefits.
Configuration section
There are three submenus in this section:
General Settings : In this section, there are options for clearing the cache via the toolbar at the top of the page, disabling optimization for administrators, and if you install the Pro version, There is an option to disable optimizations for specific user roles.
Import / Export : This section allows you to extract the plugin configuration and import it into another site.
Translation Tool : This section allows you to translate plugin options into your own language.
Summary about WP Speed ​​of Light plugin
This plugin is one of those plugins that you can set up once and for all. You do not need to visit this plugin every day to make sure its settings are correct and there is even an automatic setting mode for this plugin. You can also check each setting to get the setting you want.
If you have not used any other cache plugins, you will enjoy many benefits by installing WP Speed ​​of Light. If you use similar plugins, you can disable it once and install WP Speed ​​of Light. Then check the results to see which is better.
Using database cleanup tools, you can ensure that the database is light. WP Speed ​​of Light is also compatible with a variety of page builders such as Elementor, WP Bakery, Divi Builder, Site Origin, Beaver Builder and Live Composer.
If your site has a lot of plugins and heavy content, we suggest that you install the Pro version of the WP Speed ​​of Light plugin. You can buy and purchase the Pro version from Radzad Market.
All of these features will speed up your WordPress site . Apart from the various features of this plugin, it is easy to use and you will not face many complications.