Using this plugin you can allow your users to rate your content. These scores will also be visible in the form of Rich Snippet (here in the form of a star) in Google results.
Our decisions are amazingly influenced by the opinions of others. For example, most of us are interested in knowing what other buyers think about our product before shopping online. Because you do not want to waste your money.
In fact, implementing a scoring system is one of the requirements of an online store. These comments are effective in the user shopping experience and therefore the scoring system should be carefully selected.
There are many scoring plugins in WordPress. But choosing the right plugin is a key decision here. One of the most important factors in choosing the right plugin is to pay attention to Rich Snippet support, because our ultimate goal is to get rankings and better visibility in search results. It is also important to consider other factors such as stability, scalability, support for other plugins and free of bad code.
The WP Review Pro plugin has almost everything you would expect in a rating plugin. This plugin has features that you will often like and will be useful to you during the work of the website.
One of the interesting features of this plugin is its very high speed along with its long list of features. This plugin managed to get a rating of 4.8 out of 5 on its sales page on the MyThemeShop website.
Features of WP Review Pro plugin
WP Review Pro is a plugin with many features in the field of scoring. Here are some of the most important ones.
1. Rich Snippet support
You've probably seen the scores and page image in some Google results and subconsciously preferred to click on such results. Just arguing that such results may contain more information. This additional information in search results is known as Rich Snippet.
There are different types of Rich Snippets and you can use them effectively for your website. For example, you can use the author of the book, Rich Snape, to display the price of a product or image of food in Google results.
This way you can generate more traffic to your website and ultimately get a better ranking. According to research, Rich Snippet can increase the click-through rate in search results by 20 to 30%.
WP Review Pro plugin supports 14 types of rich snitch. So you can create a variety of rich snippets for your post types such as content, videos, recipes, series and more. For example, a Rich Snippet could look like this:

2. Various pre-designed templates
WP Review Pro has 16 types of design ready to display ratings and reviews on the website. If one of these templates is compatible with your website theme, you can use it. This saves time. Otherwise you can go to the plugin settings page and edit its colors.
In the image below, you can see the types of ready-made designs of this plugin. There are a variety of styles to suit different tastes and you can edit the colors of each if you choose. It is also possible to change the style in the future.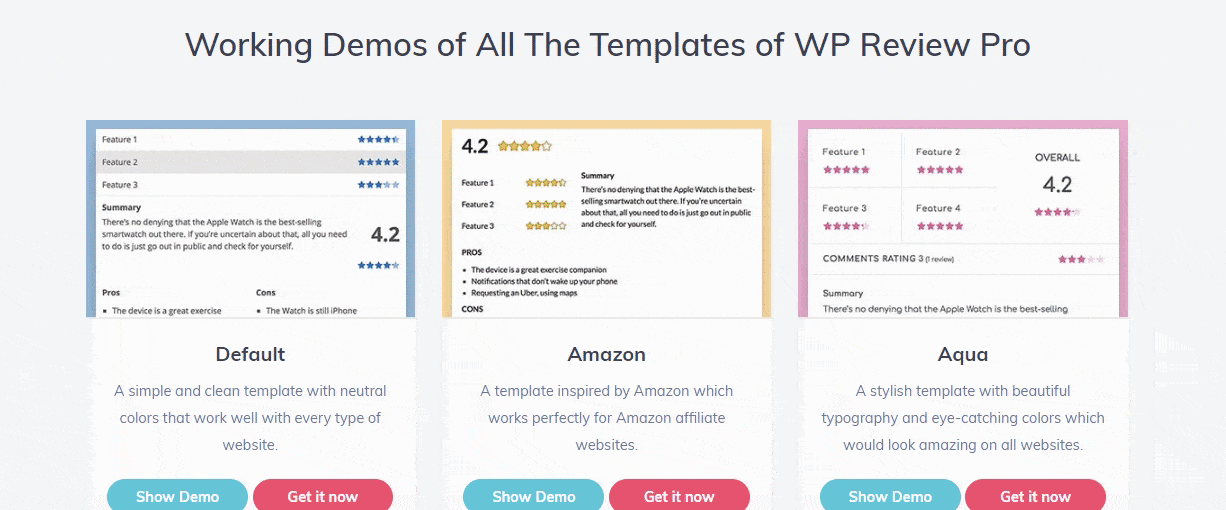 3. Integration with other platforms
Social networks are very powerful today. That is why they play an important role in marketing, developing and getting feedback from users. Today, users are very willing to write their reviews on social networks such as Facebook and Google Places.
One of the great features of WP Review Pro is that it can integrate with other platforms and display their reviews in WordPress posts. This way you can collect all the reviews of a post in one place. So website users will have a better image of your product.
Most importantly, the WP Review Pro plugin does this easily. This feature is available through the star option in the WordPress editor. All you have to do is select the platform you want and then confirm your identity. You will then be asked for the tab ID and the number of reviews required.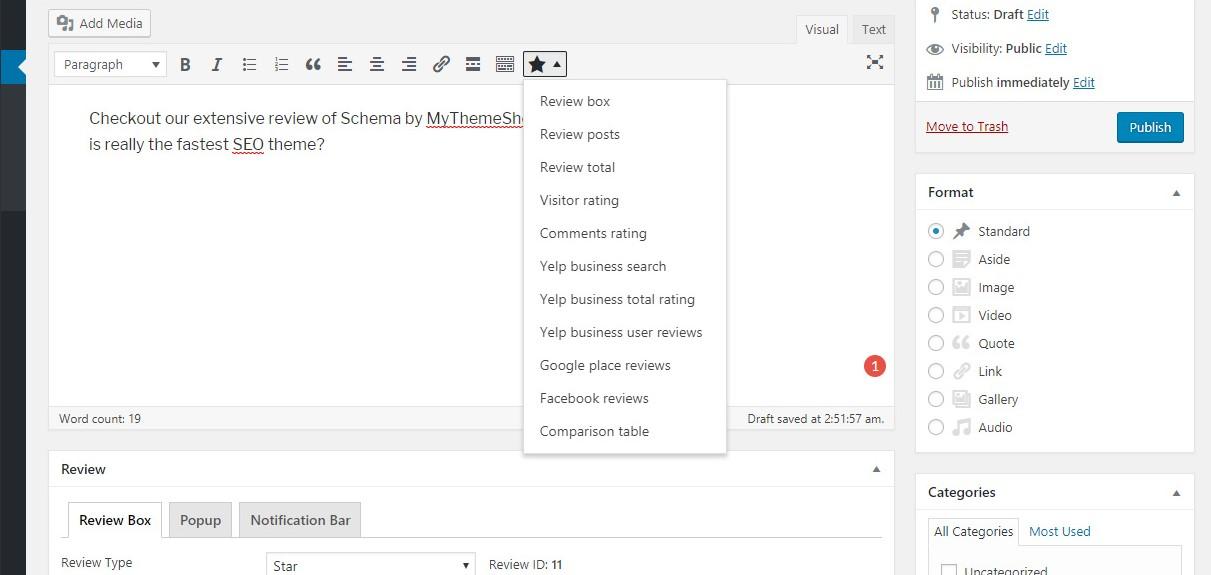 4. Comment
Another feature of WP Review Pro is the ability for users to write comments. This feature allows users to post comments about the content of the page. Users can rate products, rate other users' comments, and finally write a review about the product.
Getting user feedback on a product, article or anything else can be very helpful. You can also use user feedback to promote your services and products. Creating a comment feature is very easy and just select Comment Rating Only in the page editor.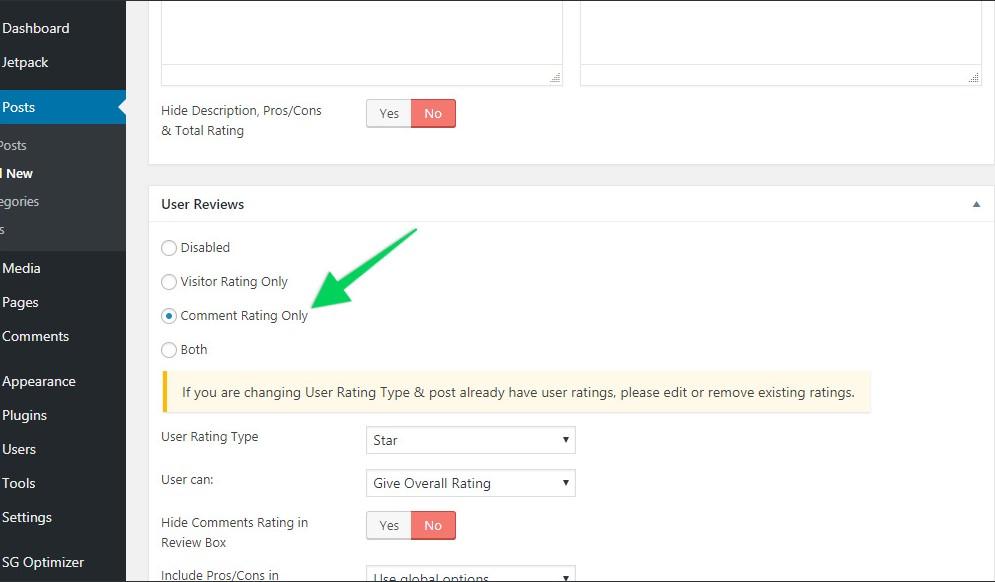 5. Comparison table
If you are interested in comparing product reviews or any other item, this feature will come in handy. Using the feature, users can create comparison tables or reviews for two products. This saves time when reviewing two products.
To create a comparison table, just click on the star option in the WordPress editor and then click on the Comparison table option.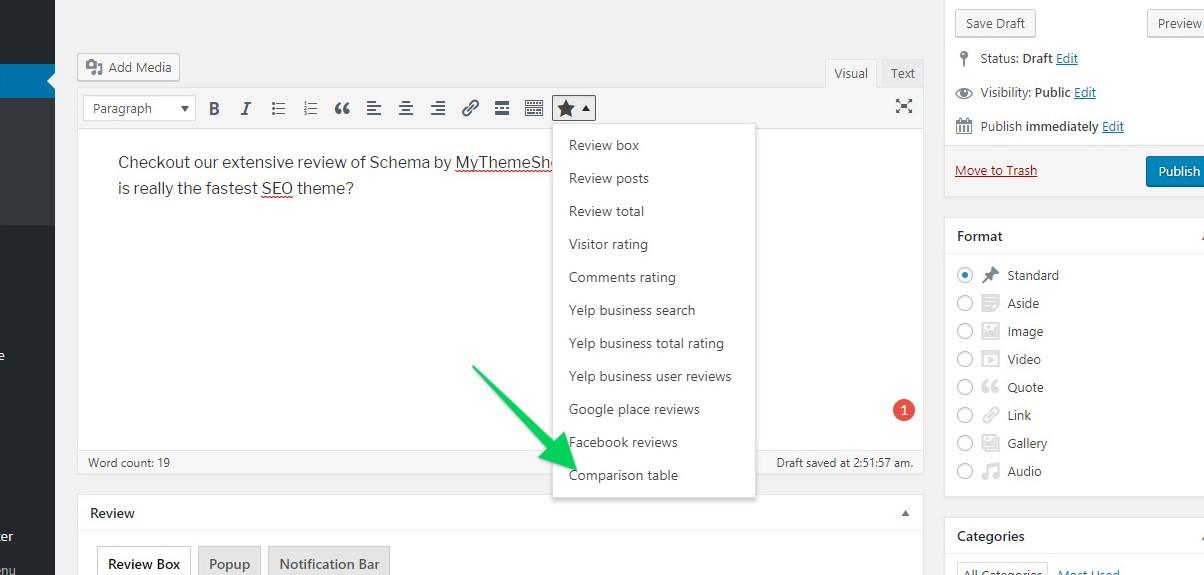 6. Pop-ups and announcements
You can use the Rating Rating Only to insert a pop-up or Notifications Bar. These settings are generally applicable at the level of each post.
Inside the posts, just go to the bottom of the editor and click on the options you want. In each of them, there are many settings for shaping and styling.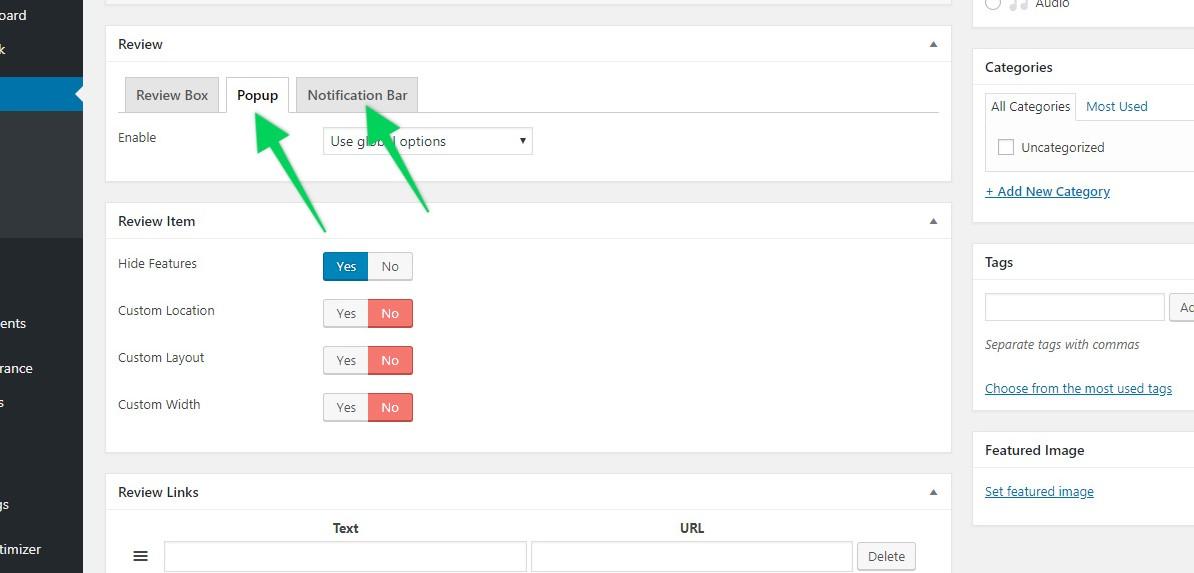 Each of these two is very efficient in its own right. For example, if you want to display notifications to users on a private page. Or advertise a specific product through a pop-up. Interestingly, you can use reviews in these announcements and pop-ups.
7. Suitable for developers
If you are a developer, the most exciting feature of a plugin is that it can be upgraded and customized. WP Review Pro is no exception. There are various filters for WP Review Pro, all of which can be upgraded in this plugin.
The full list of filters is available on the MyThemeShop website with user descriptions and comments. Just grab the code and follow the instructions.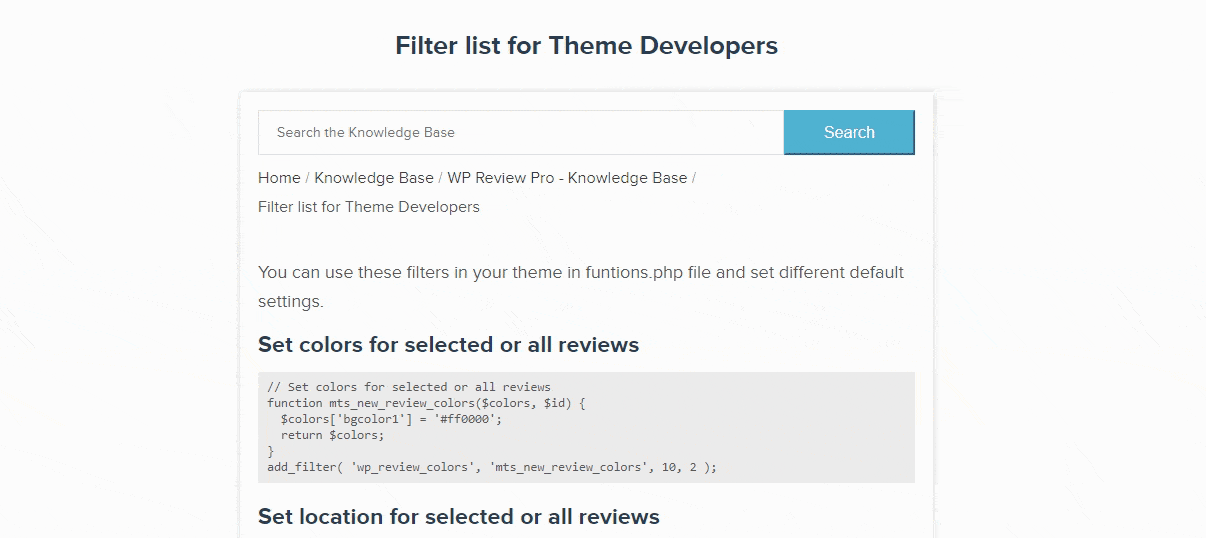 8. Adaptability
WP Review Pro will be compatible with any of your skins. This plugin is based on WordPress standards and therefore will be compatible with all skins. All you have to do is install this plugin and then review and rate the site's products.
9. Custom styling
In the WP Review Pro plugin you are able to fully customize the review box. So you can customize it to match the look of your website.
You can access the customization section through the plugin settings in the WordPress dashboard. In this section you can customize Google colors, icons, box widths and fonts. Or change the format of the scoring format.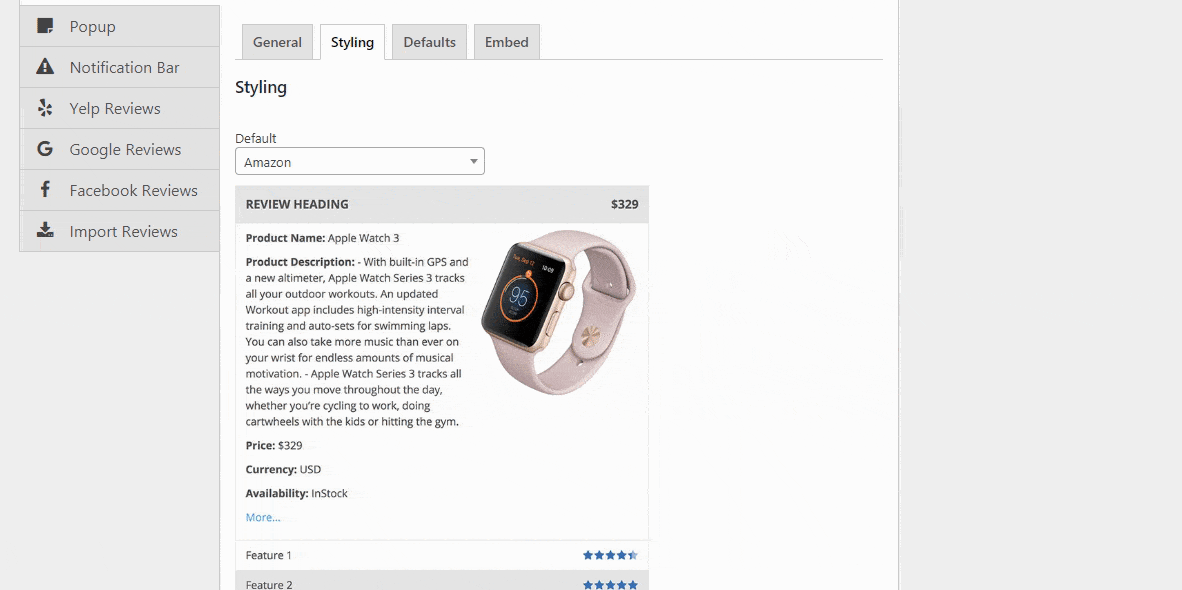 10. Embed feature
This feature allows users to display live reviews of a product on their blog.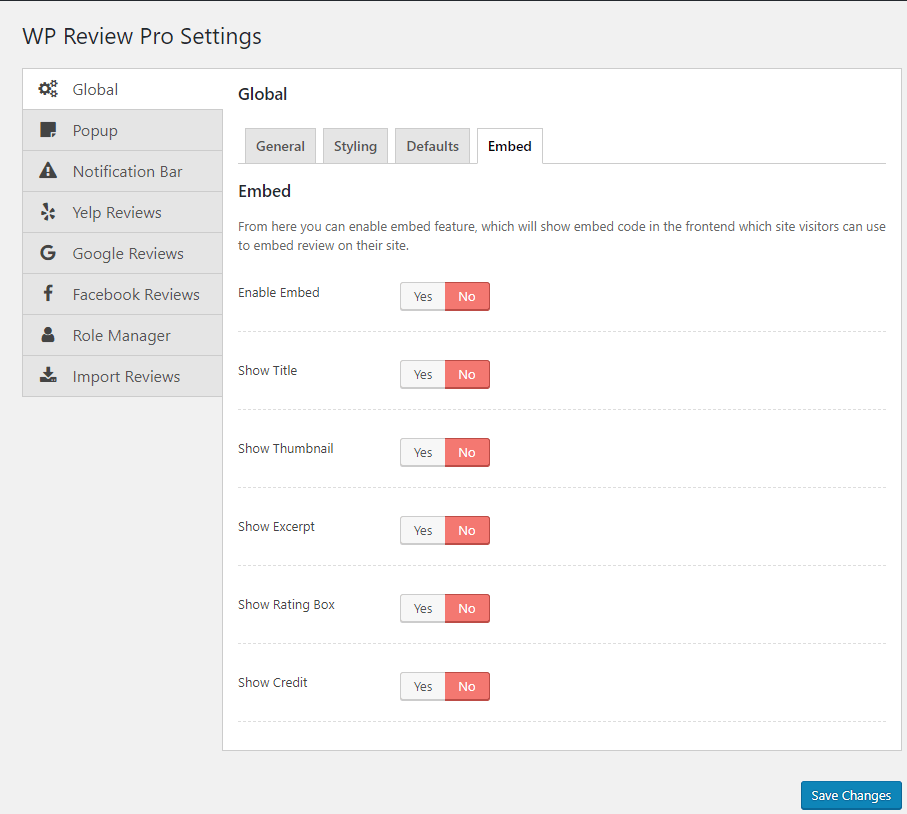 This will drive more traffic to your site. You can select embedable items from the following options:
title
image
Description
Scoring Box