In the following, we will take a closer look at the Comet Cache plugin, one of the cache plugins in WordPress. We have reviewed the capabilities of this plugin and explained how to configure it on the website.
What is Comet Cache plugin?
Comet Cache plugin is one of the most popular cache plugins for WordPress, which was introduced in 2016 and now its free version has more than 60,000 active installs.
Due to its advanced features, including WP-CLI, the Comet Cache plugin may seem daunting to users at first, but it is still easier to use. It's what it looks like.
Although this plugin may be as large as other cache plugins like WP Rocket Not user friendly, but can it compete with them?
Comet Cache plugin in action
In this section, we decided to test Comet Cache in action, instead of adding more and more confusion. Our test website is equipped with PHP 7.3 and WordPress 5.3 with the latest version of Comet Cache. The theme used is also a very light Astra theme.
Well, let's take a look at the results.
No Comet Cache

Full load time is 3.4 seconds, page size is 890KB and number of requests is 68. We are almost certain that these values ​​could be even better.
Next, install the Comet Cache plugin and after configuring, take a look at the new results.
After installing Comet Cache

We see some progress. The page load time was reduced to 2.9 seconds and the page size was reduced to 865KB, but the number of requests remained the same at 68.
But you may be wondering why the number of requests has not changed. Because in this test, we have not enabled the ability to combine CSS and JS files. Of course, it is worth noting that this feature is not available in the free version and is only for the Pro version.
These results are only available in ten minutes. By activating the ability to merge files and a few other options in the Pro version of this plugin, you can get better results.
How to launch Comet Cache plugin?
Step 1: Install and activate the plugin
In the WordPress dashboard, from the plugins section, click Add, and then select and upload the downloaded file after purchasing the plugin via the "Upload Plugin" button. Finally, just activate the plugin.
Step 2: Configure GZip
In general, the Comet Cache plugin responds to all your needs, the cache feature is activated automatically and its initial settings are optimized.
Additionally you can enable GZip compression. Just go to Comet Cache settings and select Yes, enable GZip compression from the Apache Optimizations section.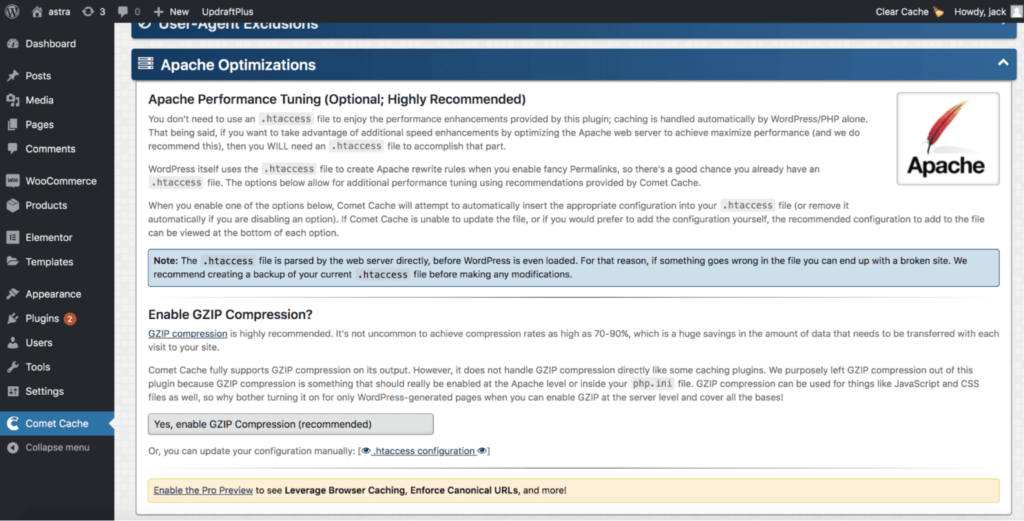 Now click on the save option at the bottom of the page, the job is done.
As mentioned, the settings page is full of textual descriptions and the interface is generally a bit heavy and may look appealing to amateur users. If you want a more user-friendly cache plugin, try WP Rocket.
Features of the free version of Comet Cache
Surely you, like us, will be amazed at the features and capabilities of Comet Cache. The most important features of this plugin are:
Cache for posts, tabs, tags and categories
Intelligent and automatic cache cleaning
Client Browser Cache
RSS, RDF and Atom feed
404 Request Cache
Automatic cache expiration time
Create a template to not cache some URIs
Create a template to prevent cached pages for some User-Agents
Create a template to not show cached pages for HTTP referrers in particular
Cache GET requests and create custom bans for them
GZip Compression
Compatibility with WP-CLI
Advanced Cache System
Error Mode
Ability to translate
Let's take a closer look at the features in the free version.
Clever and automatic cache cleaning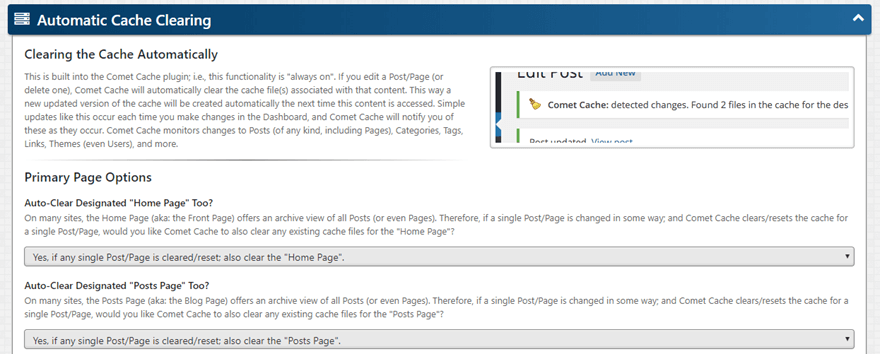 By default Comet Cache can automatically clear the home screen cache after updating posts and tabs. This feature is very useful for websites that have variable content on the home page. However, if the content of your site's home page does not change with the tab and post update, it is best to disable this feature.
There is also an option to clear your blog tab cache after updating one of the posts or publishing a new post. This feature helps users to access a new post through the blog page as soon as it is published. This way users do not have to wait for a while to see new posts.
There are also settings that enable these features for private categories and tags. If tag pages are not important to you, you can disable their cache clearing tribes. This will make better use of the site's resources.
Automatic cache expiration time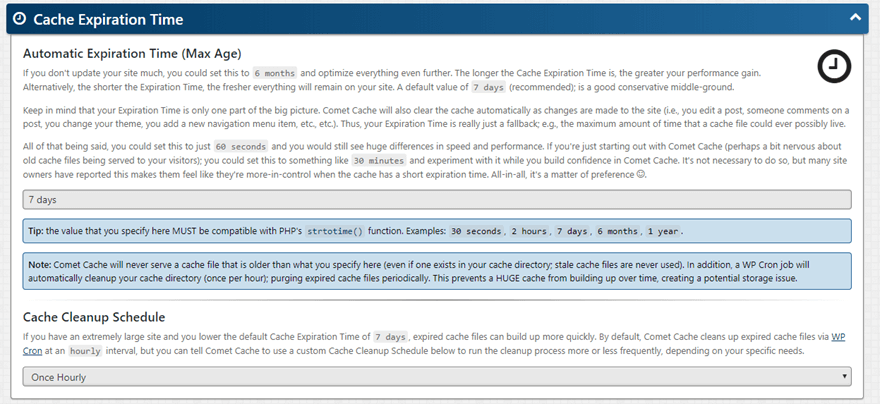 Cache is a great feature. This feature will speed up the site by saving a static version and preventing the same pages from reproducing. However, you are usually updating the site. Maybe once a week you publish a new blog post, or maybe you add a new menu to your restaurant site. If in such a situation the user browser does not show the new menu and recent announcements, you have practically failed in your business.
So you need to make sure you update the page cache and create an expiration date for them. This time can be from thirty seconds to any amount you like. Everything depends on your choice. Old caches will certainly be cleared by creating an expiration date.
Creating a balance between the parameters involved in this issue may take time, but with trial and error you can eventually get the right settings. If you are worried about the content not being seen, it is better not to touch this part at all.
Create a template to not cache some URIs

Reconsider the previous example. You may be so worried about not seeing the new menus that you will not be able to cache this page. In this case, you can use the URI Exclusions settings to prevent pages from being cached.
By entering the page address in this section, that page will not be cached and its content will always be generated instantly.
In addition, there is a possibility in this section that you can not show the cached version to some entries. For example, for whatever reason, you might want to show unlinked pages to users who log in to your site from Facebook. Or you may want to block users of some browsers from seeing the cache. Reasons for such actions are very rare, but it is good to know that such features exist in Comet Cache.
Comet Cache is the only plugin that you can easily implement. There is also a good description in each box. If you need more information, there is a link to the Comet Cache site in each section to read more about that feature.
Special features of Comet Cache Pro
More features you can see in the Pro version are:
Cache for logged in users
Mobile Adaptation Mode
Using Leverage Browser Caching
Cancel URLs
Ajax Button Clear Cache
Automatically clear URLs
Import and export plugin settings
Clear the cache of a particular page
Clear the current page cache
Clear PHP OPCache
Merge and minimize JS and CSS files
Cache preload
CDN Compliance
As you can see, many of the advanced features of this plugin are only available in the Pro version. Let's take a look at the features that are not available in the free version.
Merge and Minimize JS and CSS Files
This is one of the ways to speed up WordPress sites. Merging scripts and converting them to a file reduces the number of requests from the browser.
Minification, on the other hand, is a way to remove extra characters such as comments and spaces between codes. You can access these two features by installing the Pro version of the Comet Cache plugin.
Cache preload
After installing the cache plugins, the cache will not be created by itself. In fact, after the first user visits a page, its cache is created and saved. This means that at least one site loads slower for a user.
To prevent this from happening, some cache plugins have introduced the ability to preload. By activating this feature in Comet Cache Pro, the plugin, through its monitor (Crawler), browses the pages before users visit to create their cache as quickly as possible.
Leverage Browser Caching feature
After testing the website in various site speed checking tools, you will usually come across an option called Leverage Browser Caching.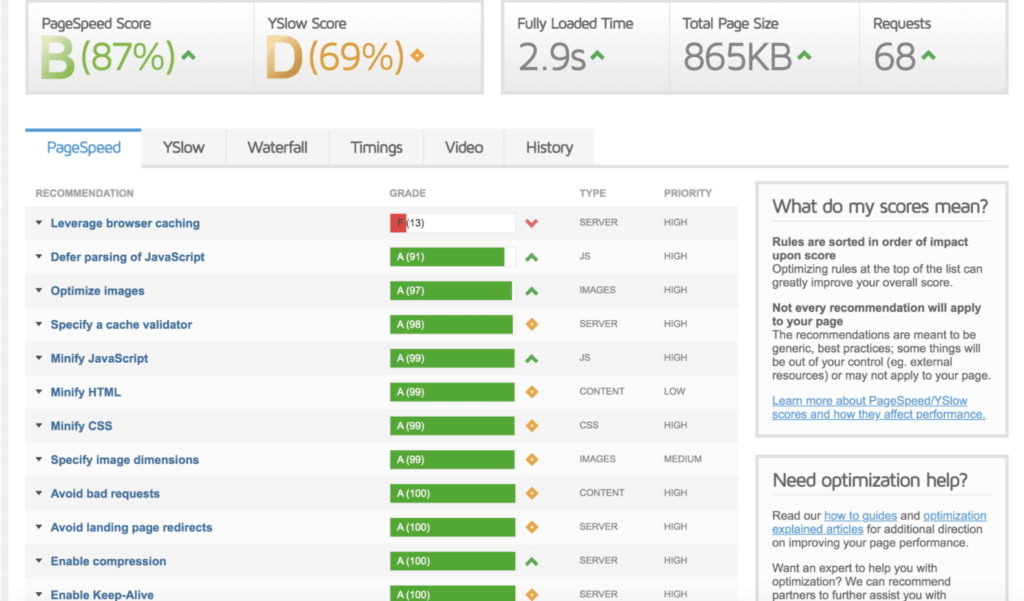 In many cases this is the option that prompts you to install a cache plugin. Using the Leverage Browser Caching feature, you allow users' browsers to store resources needed to load the page (such as images) for a specified period of time.
This will allow the user to upload cached resources from the saved version in the browser on subsequent visits to the website, thus greatly increasing the page load speed. / p>
What do we like about the Comet Cache plugin?
The most important thing about the Comet Cache plugin is that it is very easy to set up. Installation of this plugin literally does not take more than 5 minutes. Although its interface is not as beautiful as some other cache plugins, the configuration process in the Comet Cache plugin is not complicated either.
One of the most important features we saw in this plugin was the faster cache creation speed than other plugins. There are also settings in this plugin where you can adjust the preload speed of cache pages, an option that does not even exist in WP Rocket. This feature is very useful on sites with shared hosts.
Summary about Comet Cache plugin
Comet Cache is generally one of the best WordPress cache plugins. Here we tried to examine the different capabilities of this plugin and how to set it up.
In our opinion this plugin can easily work with other similar plugins like WP Rocket and W3 Total Cache Pro to compete.