Check out the WordPress Auto Spinner plugin
Auto spinner tools are tools that can analyze content and replace some words and phrases with their equivalents. The changes will then be highlighted. You can then click on the changed words and select other words from the other equivalents.
According to the developers of the WordPress Auto Spinner plugin, this plugin can automatically create different content by replacing phrases. This plugin also supports several languages, and if used in Persian language content, you can add similar Persian and similar Persian words in the My Thesaurus section.
Activating this plugin is like most Rich WordPress plugins. After activating, an option called WP Spinner will be added to the WordPress dashboard. This plugin does not need to be set up privately before use. In In Thesaurus and My Thesaurus you will see the words and their equivalents. In these sections you will be able to edit equivalents and add new words.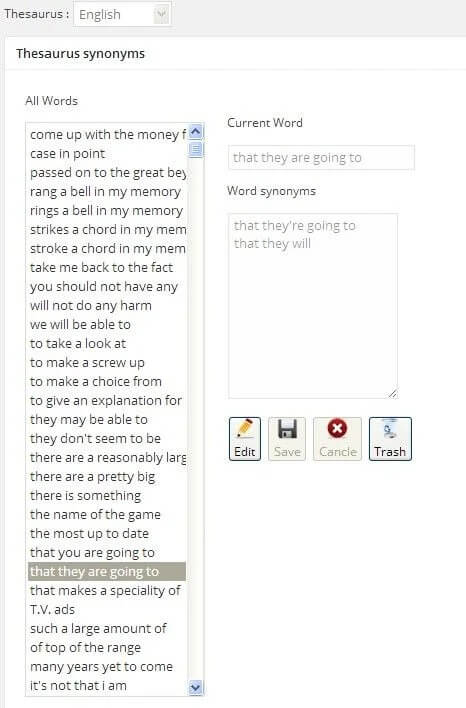 In the Settings section there is also an option to enable automatic content editing. According to observations, this plugin is more useful for people who just want to create relatively different content for the same products on the sales collaboration sites they have created.
In the Log section you will also see all the modified posts.
Test WordPress Auto Spinner plugin
In the test, the plugin was able to replace some words with their equivalents and rewrite the content.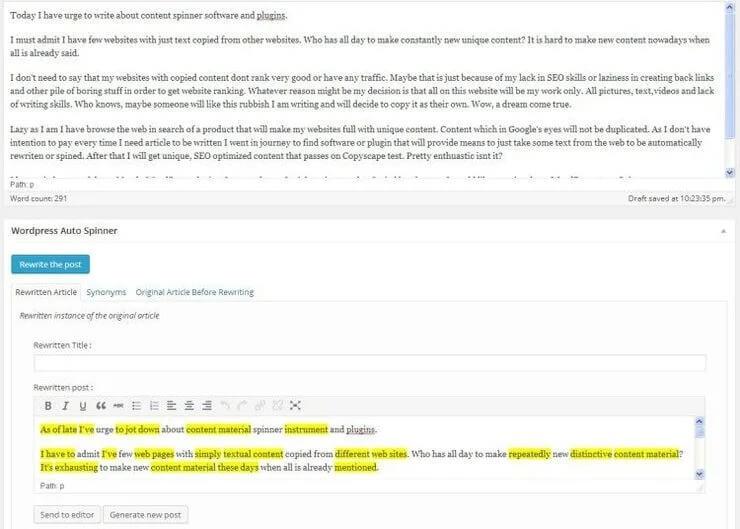 All yellow parts have been replaced with the original equivalent. Just hover the mouse over these prices and see other plugin offers. Although rewritten content is not great, it is not bad and you can get better content by manipulating the content manually.
Tips for using the WordPress Auto Spinner plugin
Here are some tips to help you get started with WordPress Auto Spinner.
1. Start with good content
Always choose content for rewriting that is relatively high value and well written. Selecting poor quality content also increases the likelihood of poor quality output.
2. Read the rewritten article
Is the generated content natural? You may need to read and edit it once or twice. If none of the suggested plugin alternatives are suitable for the phrase, you should do it yourself.
3. Test the output using Plagiarism checker tools
Use Plagiarism checker tools before Google publishes Windows content.
4. Do not produce multiple copies of the same content
Do not take multiple outputs from one content and do not publish them all. This will increase your chances of getting a Google penalty.
WordPress Auto Spinner plugin features
Replace the expressions in the text with their equivalents using the database in the plugin or API of one of the Spinning services
API support for SpinRewriter, WordAi.com, TheBestSpinner.com, ChimpRewriter, ContentProfessor.com and SpinnerChief.com
Support for English, Turkish and even Persian languages ​​(if the Persian database is completed manually)
Support for rewriting content title and name
Support for WordPress Automatic plugin and rewrite content before publishing
Ability to rewrite mass content
Support for rewriting the content of WooCommerce products
Ability to edit content before publishing
Full control over plugin database
Manually rewrite content
Rewrite custom post types
Multi-site installation support
Is the WordPress Auto Spinner – Articles Rewriter plugin the best of its kind?
According to our tests, in some parts the sentences do not have the correct meaning and you have to enter the correct equivalents according to your knowledge. But in general, with this plugin, did you reach your goal of rewriting content? Yes you can.
The purpose of working with this plugin is less content similar to the original content and to use it on sites that are not supposed to be very SEO Open an account for them.
Maybe in the future, if some artificial intelligence is added to this plugin, the output will be much better, but now the way it works is to equate the phrase with an alternative.