Rank Math Pro plugin Review
Rank Math plugin is a versatile SEO plugin in WordPress and its release with all its features caused a storm among SEO activists. Are you surprised to say that this plugin is better than Yoast SEO? Stay tuned by continuing to review the plugin.
Until recently, when it came to WordPress SEO Plugins , Two popular plugins came to mind: Yoast SEO and All in One SEO.
Both plugins have many features and have millions of installations. But it was November 2018 that a new plugin called Rank Math was launched.
Rank Math SEO plugin developed by MyThemeShop group. If you are a few soloists in the WordPress world, you have probably come across this name and used its plugins or themes. Rank Math Plugin caused a great deal of controversy among SEOs due to its many wonderful features.
Although Yoast SEO is still the most downloaded SEO plugin in WordPress, Rank Math has quickly become a serious competitor to it. This plugin has received many positive reviews from SEO experts.
We suddenly saw that from novice bloggers to professional bloggers like Matthew Woodward and Adam Connell using the Rank Math plugin.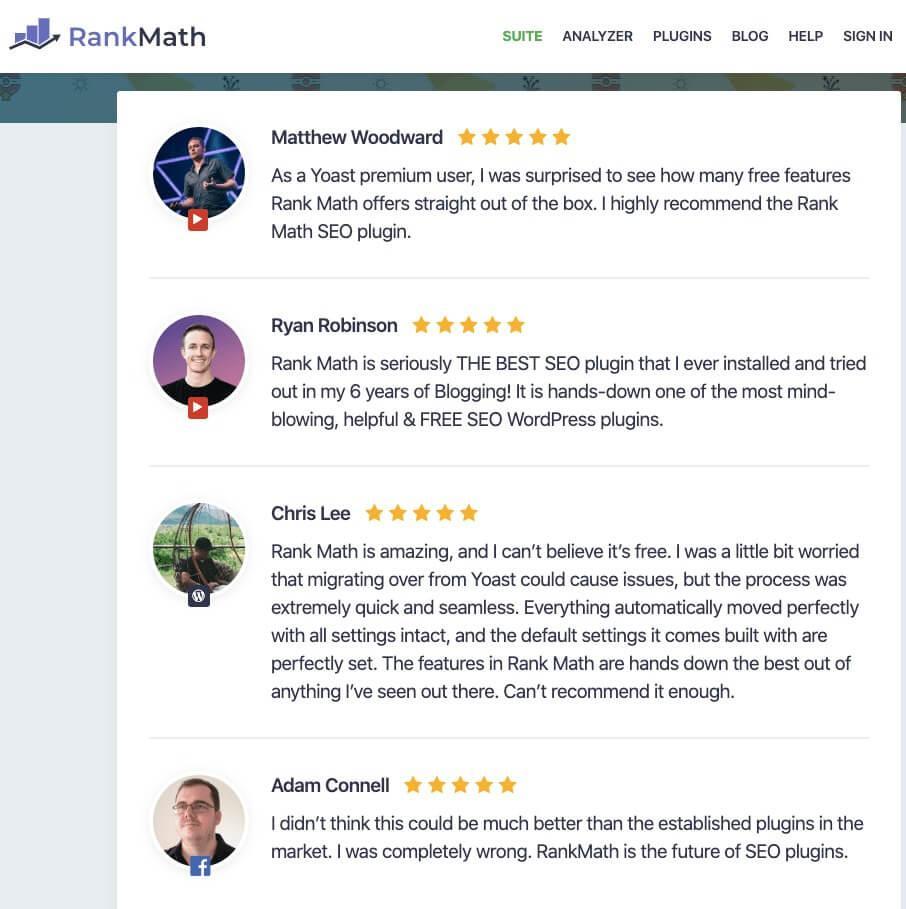 Now these things have confused everyone: should we still stick to Yoast SEO and All in One SEO or switch to Rank Math?
In this review of the Rank Math plugin, we will address the following:
Amazing Features of Rank Math Plugin
Benefits of using the Rank Math plugin
Why should we use the Rank Math Pro plugin instead of the free version?
Advantages and disadvantages of Rank Math
and a few other important things about this plugin
Features of Rank Math Pro SEO Plugin
Rank Math plugin has the following important features:
Automatic data transfer from Yoast SEO plugin
Automatic data transfer from All in One SEO plugin
Build XML sitemap
Create various redirects
Make Rich Snippet
Similar keyword suggestion tool for better post optimization
Automatic SEO of images (creating an automatic ALT tag for images that do not have it)
Track keyword rankings
Batch title editing and page meta description
Preview the page on Google before publishing
Page optimization for a maximum of 5 keywords
Select important posts or tabs on the website
Suggest internal links
Add Nofollow tags to all external links (and open them in a new tab)
Add Nofollow tag to all external images link
Create access for .htaccess editing
Provide access to edit robots.txt
Monitor 404 errors (to identify and fix problems instantly)
The most important benefits of using the Rank Math SEO plugin
But what makes this plugin so powerful? Why are so many websites migrating to Rank Math? Here are the most important reasons (as well as the benefits of Rank Math).
SEO analysis is done instantly
One of the special features of Rank Math is website SEO analysis. Just click on SEO Analysis after installing the plugin to start the analysis process.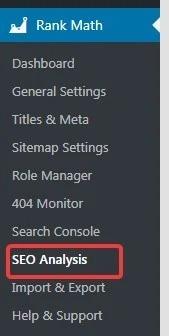 This plugin will automatically start analyzing your website after clicking on the Stat Site-Wide Analysis option. After completing the process, a score will be given to your website SEO. Something like this:

As you can see, the results are displayed in three categories: Passed, Alerted, and Passed Tests. It is best to fix the failed tests as soon as possible, as they may have had a negative impact on your site.
In fact, the Rank Math plugin has applied more than 70 tests to the website and its content to help you optimize it. Doing frequent tests on website SEO will help you to understand its problems and finally get a better ranking in Google search results.
optimize keywords up to 5
One of the most important reasons for website owners to migrate to Rank Math is the ability to optimize content for up to 5 keywords. In the Yoast SEO plugin you are limited to just one keyword, although there is no limit to the Pro version of the Yoast SEO plugin.
Gone are the days when website posts were limited to one keyword. Nowadays the need to optimize content for several keywords is quite felt. This is where the Rank Math feature comes in handy.
Even the developers have provided a filter that you can use to increase the number of keywords indefinitely.

As you can see by applying the above filter to the function.php file you can increase this limit to 10 or any other number.
Track keyword rankings in search results
Rank Math compatibility with Google Search Console is great. After connecting your Google Search Console account with the Rank Math plugin, you will actually see the Google Search Console dashboard in the Rank Math environment.
A variety of information is available, including:
All keywords the website has ever ranked
Number of clicks the website has received from these keywords
Average CTR (click-through rate)
Your website ranks in different keywords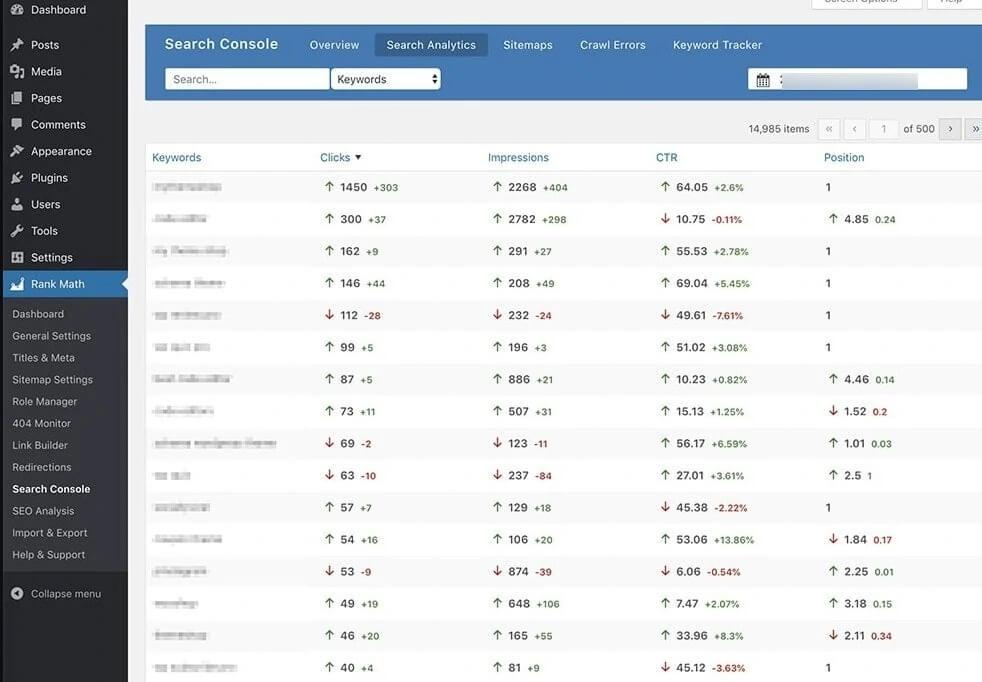 This way you can easily monitor the site's keyword rankings. There is also a feature in the Pro version that will allow you to follow your suggested keywords.
No need for another plugin to build Rich Snippet
Schema Markup, also known as Rich Snippet, is one of the best ways to differentiate your website from other competitors in search results. Skima There are various markups for this. Some of them are as follows: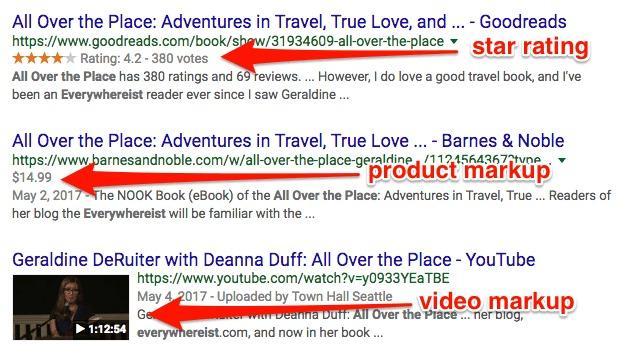 Fortunately, in the presence of Rank Math, you do not need another plugin to implement Asikma Markup. but why? Because the Rank Math plugin supports 14 different types of Asikima markup.
You can easily optimize your content for local snippets and local SEO to make search engines better understand them. It does not matter if you own a blog or an online store, in any case you can easily implement Eskima markups using the Rank Math plugin.
Manage redirects
Many SEO plugins, such as the free version of Yoast SEO, manage redirects do not provide. But this is not the case with Rank Math and this plugin is equipped with advanced redirect management.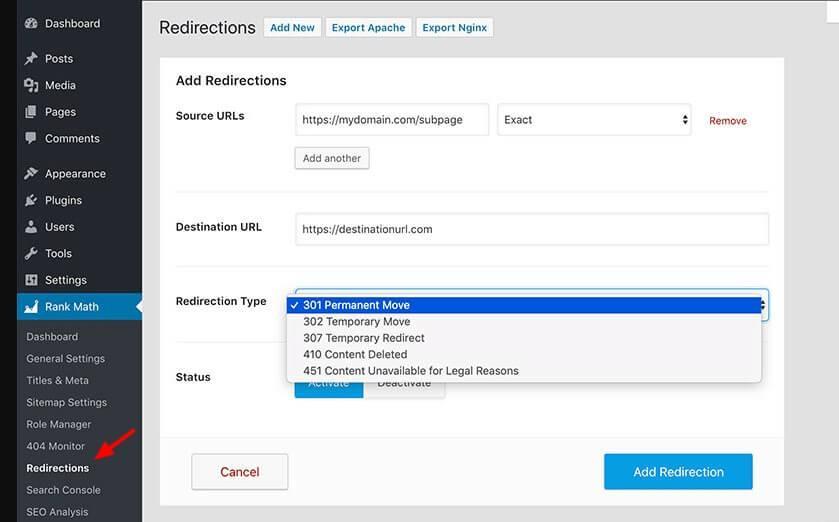 The following types of redirects can be implemented in Rank Math:
Permanent redirect 310
Temporary Direct 301
Temporary redirect 307
Code 410
Code 451
In addition, two very important site files can be edited in the Rank Math plugin:
.htaccess file (you can easily edit this file through the Rank Math plugin dashboard. Rank Math will also support this file before saving your changes )
robots.txt file (you can easily edit and update the robots.txt file via the Rank Math dashboard)
Social Networking
We all know that SEO is a powerful tool, but if you are looking for faster ways to Get traffic, social media is a great tool. To be better seen on social media, you need to create more attractive images, titles and descriptions for them.
Fortunately, Rank Math has the ability to adapt to social networks, and this possibility is available through the Social tab in the Rank Math meta box. Something like this: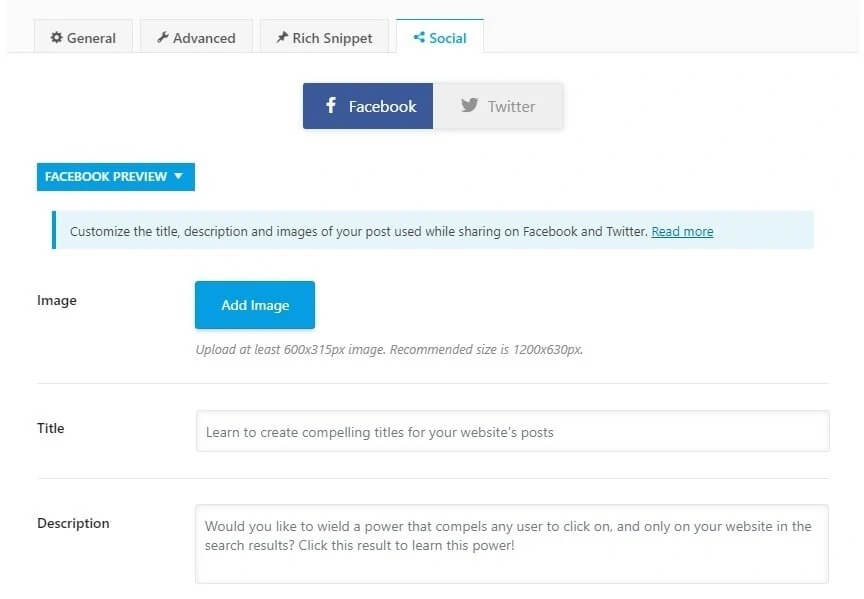 As you can see, Rank Math now has the ability to preview web addresses on two popular social networks, Facebook and Twitter. Using the Open Graph meta tag and Twitter Card you can display your site links when subscribing Customize on both platforms.
Suggest related keywords
Rank Math is a feature that you can use to automatically get suggestions around your content keywords.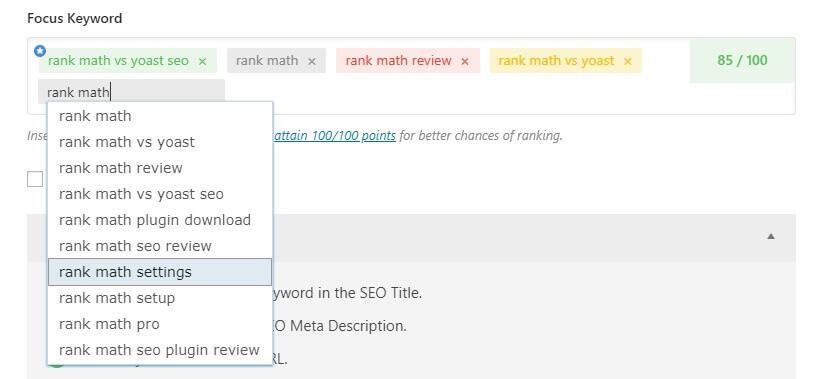 You may not know it, but use keywords Similar to the main keyword can play a positive role in page rank. In other words, this will increase your website's chances of getting more keywords.
So you will not need any other tools and just connect Rank Math to your Google Account to use this feature.
Use the modular framework
Unlike other SEO plugins such as Yoast SEO, Rank Math has a modular framework. This means you can disable modules you do not need.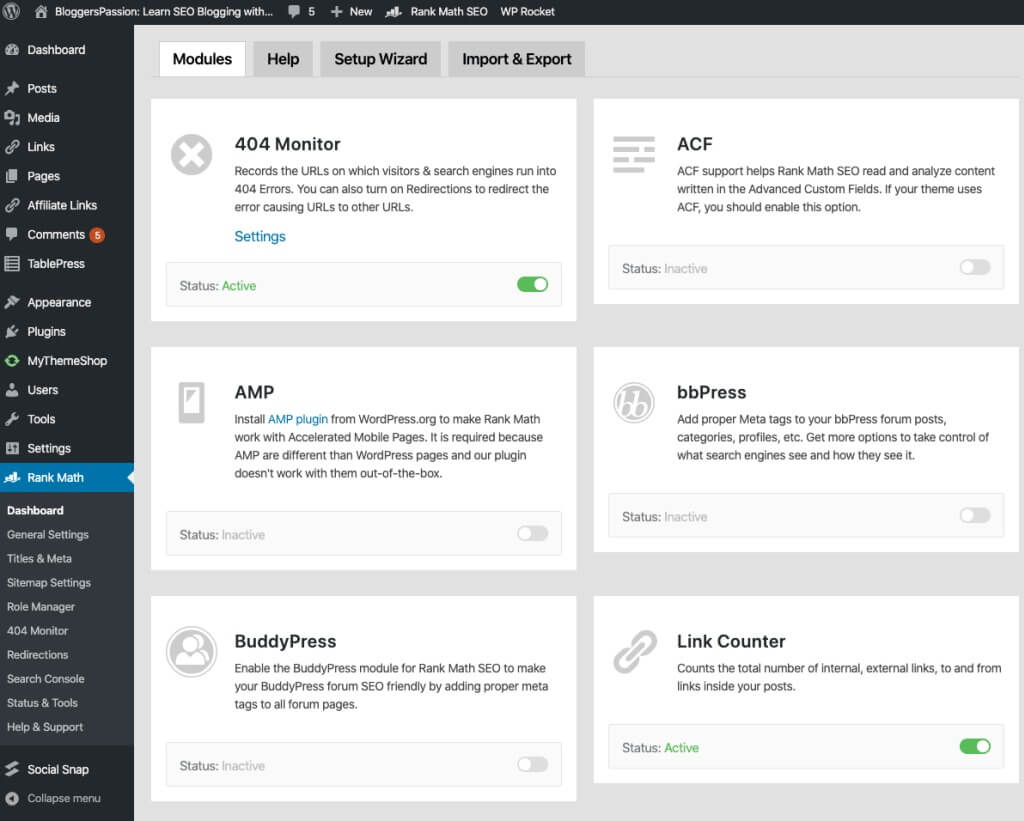 As you can see, Rank Math has many modules. It is up to you to decide which one to use and which one to disable. Along with this feature, you will have stronger management on your site.
Build Sitemap automatically
WordPress has a standard sitemap from version 5.5 onwards, so you may no longer need to use popular plugins like Google XML Sitemap. However, there are certain sitemaps that make your site content index faster. News Sitemap, for example, is one of those special sitemaps that allows you to display website content in the Google News section.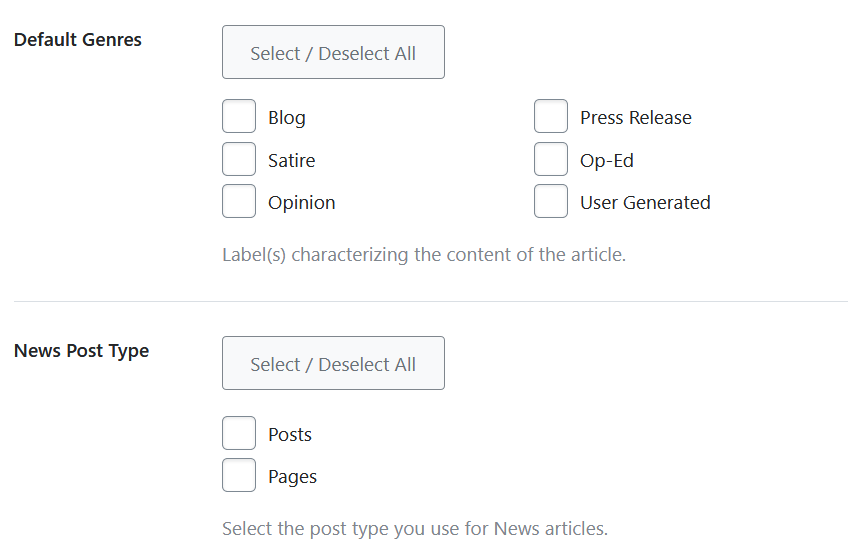 This feature is available in the Rank Math Pro plugin and you can easily create a News Sitemap.
Video Sitemap will also come in handy if it publishes a lot of videos on your website. Creating such a sitemap allows you to display site videos faster and better in search results.
More professional WooCommerce SEO
One of the features of the Rank Math Pro plugin is support for WooCommerce. In this plugin you can edit the metadata of product pages and categories. Also one of the special features of Rank Math Pro plugin in WooCommerce is restructuring product and category URLs.
For example, it is possible to remove the product and product-category prefix in this plugin. You can also shorten the URLs of categories that are subsets of another category and remove their parent name from the URL. The set of actions is to create shorter and more understandable URLs for users and Google.
Compare Yoast SEO and Rank Math
Take a look at the image below before we get into the differences between Rank Math and Yoast SEO plugins.

As you can see, the Rank Math plugin uses less code and has fewer PHP requests. Therefore, Rank Math is expected to be faster than Yoast SEO. So if you are looking for a lighter plugin than Yoast SEO, Rank Math is naturally superior in this regard.
Apart from speed, the most important difference is in the features. In fact, the features that Yoast SEO offers in its premium version are what are available in the free version of Rank Math!
The following is a closer look at the features of these two plugins.
Keyword Optimization : Optimization in the free version of Yoast SEO is limited to one keyword and unlimited in the Premium version. With Rank Math, there is virtually no limit in this area.
Winner: Rank Math
Content Analysis : Yoast SEO Content Analysis is limited to reporting good or bad content. But Rank Math will give the content a score, and a score of at least 80 out of 100 means the situation is good.
Winner: Rank Math
But who is the final winner? So far, Rank Math has clearly won the competition.
Compare Free Rank Math with Pro Version – Why should we get Pro version?
Rank Math has a premium version called Rank Math Pro that adds more features to the free version and is more effective in improving your website SEO. If you are interested in testing Rank Math Pro, visit this plugin site There is a free demo for this.
Here are the best reasons to use Rank Math Pro for the free version.
Integration with Google Analytics
Rank Math Pro has the ability to integrate with Google Analytics, so you do not need to leave it to view site traffic reports. This report is as follows: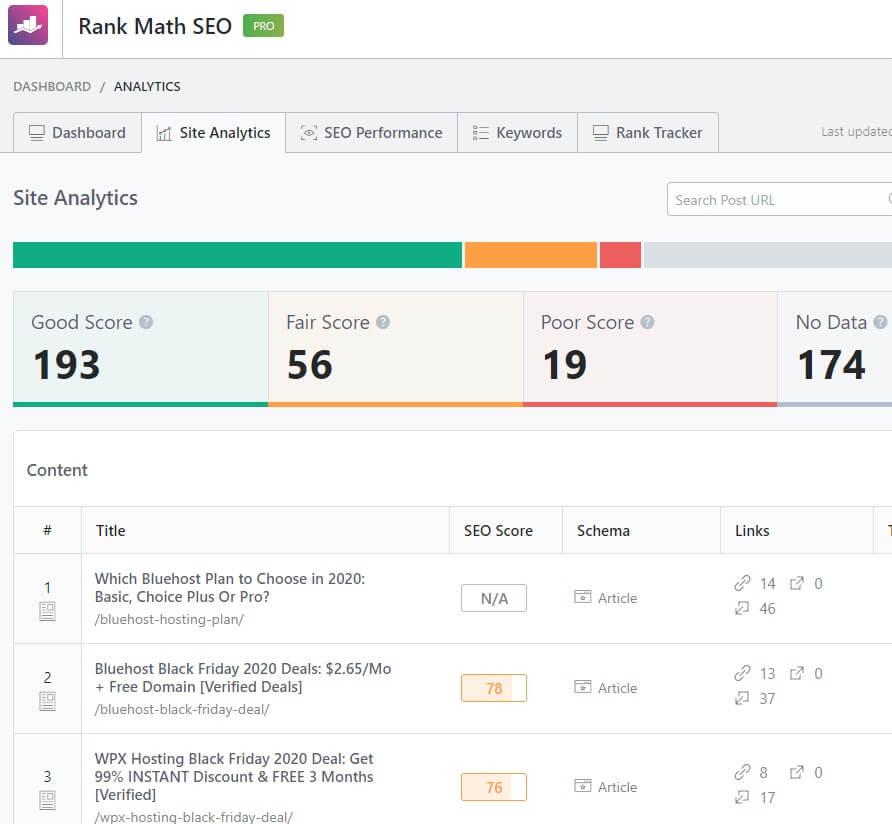 As you can see, Rank Math Pro displays a list of pages with their scores. It is also possible to display other post information such as page title, sketches, links in other columns.
Follow 1000 keyword rankings
Using the Pro version, it is possible to follow the rank of 1000 keywords and more. The results of this tool are as follows: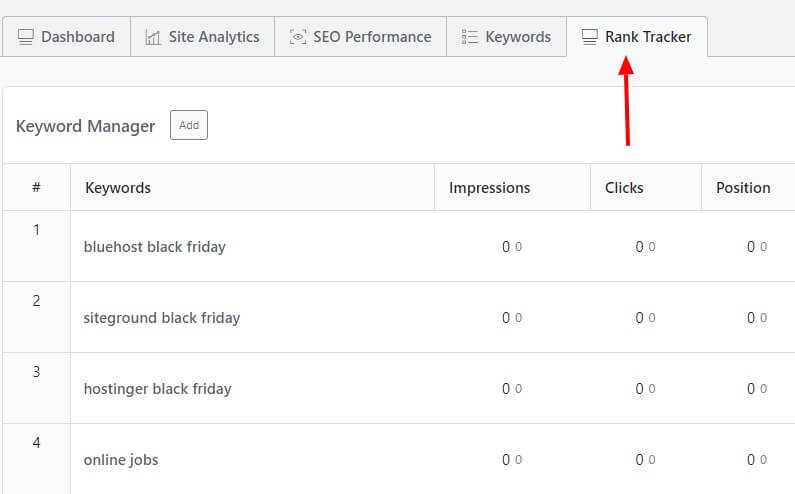 The image above belongs to the site where this tool was recently launched and as a result there is no specific information to display.
Advanced Skima Markup Manufacturer
We all know that Google is increasing its display of site markup schemas. Therefore, adding various schemas to posts such as Job Posting, Review, Recipes and the like is felt more than ever.
Some of the schemas supported in Rank Math Pro are:
Article Schema
Book Schema
Course Schema
Event Schema
Job Posting Schema
Local Business Schema
Music Schema
Person Schema
Product Schema
Recipe Schema
Restaurant Schema
Review Schema
Service Schema
Software / App Schema
Video Schema
FAQ Schema
HowTo Schema
This feature is available as follows: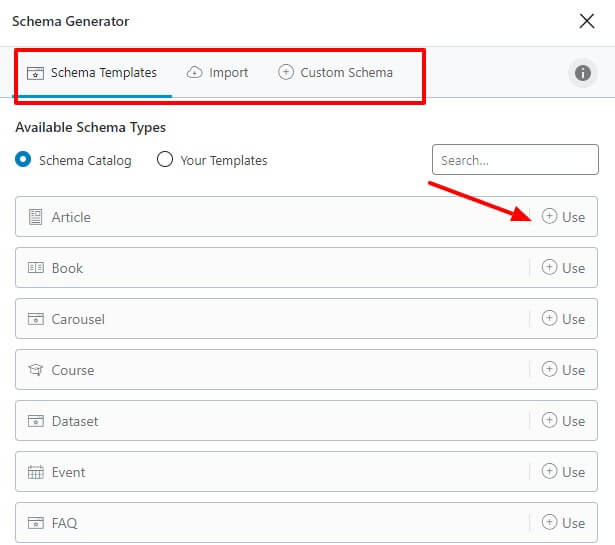 As you can see, a variety of schemas such as Article, FAQ, Course and the like can be used.
SEO Images
Rank Math plugin lets you Automatically add ALT tags to images. Therefore, this plugin is very effective in image SEO. If your website has a lot of images without the ALT tag, you can easily and automatically add this tag.
Just activate the Image SEO module from the plugin settings and this operation will start automatically. It is also possible to add a title automatically for images.
To enable this feature, just go to Rank Math & gt; Go to General Settings and enable it as shown below.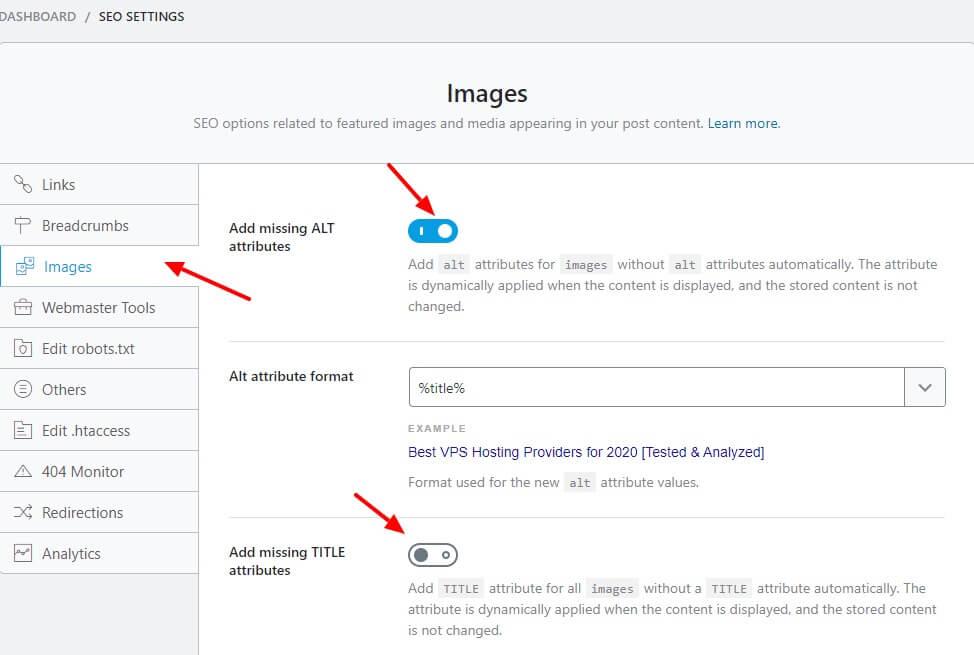 ALT tag Images will be generated dynamically when they are loaded on the page. This feature is also available for title and caption.
404 error monitoring
We all know that finding and following 404 links on a website is difficult. The good news is that the Rank Math Pro plugin will allow you to watch and find 404 errors. This tool will also allow you to fix these errors.
Note: 404 errors are the ones you see when viewing pages that do not exist. These errors are not good for SEO and do not lead to a good user experience.
The 404 error monitoring module has two modes:
simple mode that reports only 404 errors.
advanced mode that will report page addresses as well as traffic reference and user-agent.
Regularly checking these reports allows you to create a better user experience in addition to fixing 404 errors. The 404 error monitoring page is as follows: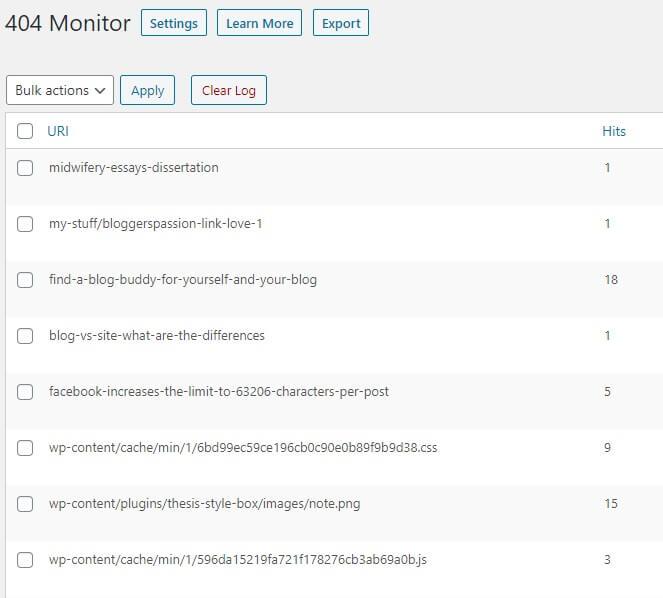 This page also allows you to extract error reports and perform group actions. The redirect management tool is ready here for you to redirect 404 links to the appropriate pages.
Rank Math settings
Here we are not going to explain all the settings of the Rank Math plugin. Only the most important items to configure after installing the plugin are described.
If you have previously used another plugin such as Yoast SEO, it is possible to transfer its data to Rank Math. This way there is no need to manually transfer post and tab data. The good news is that Rank Math automatically detects your SEO plugin and helps you perform the transfer operation with complete ease.
For example, if you used to use Yoast SEO, the data transfer page looks like this: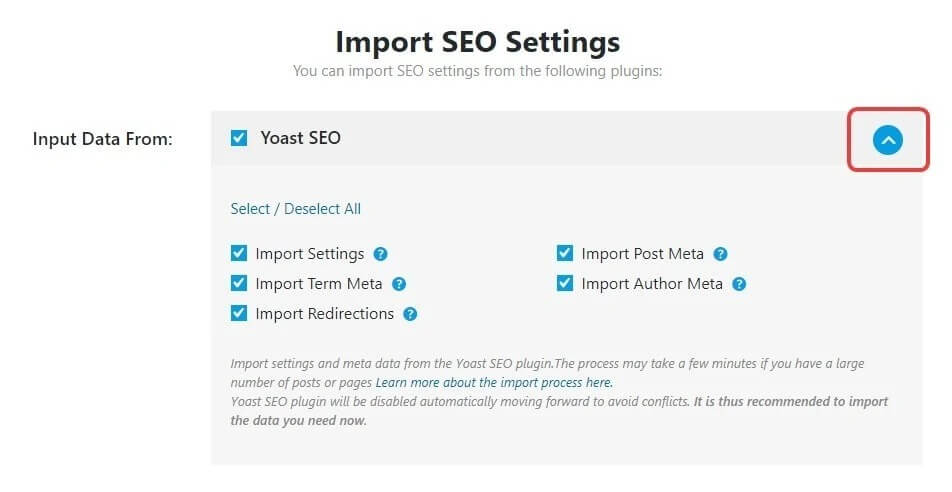 As you can see, the following data transfer is possible:
Settings
Metadata
Redirects
After passing this step, you need to do a few small things:
Select site type (blog, online store, etc.)
Site connection with Google Search Console
Sitemap settings
The above steps are very easy and far from complicated. Some of the settings that can be used to optimize the site are:
Add Noindex meta tags to empty categories and tags
Add Nofollow meta tag to image file link
Add Nofollow meta tags to external links
Ability to open links to other sites in the new tab
Remove the word category from the category address
After performing the above steps, just click on the Save and Continue option to complete the process. These settings will probably be displayed as follows: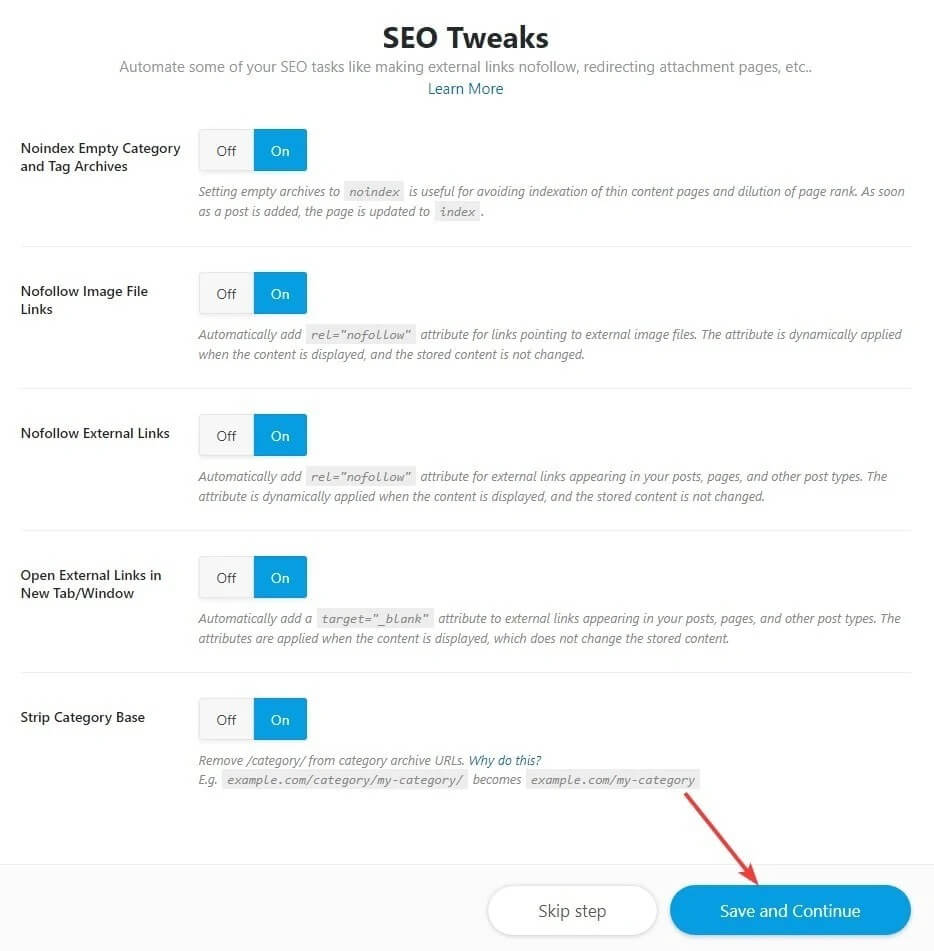 Initial settings are complete. At the post level and in the SEO settings tab, Rank Math looks like the following image: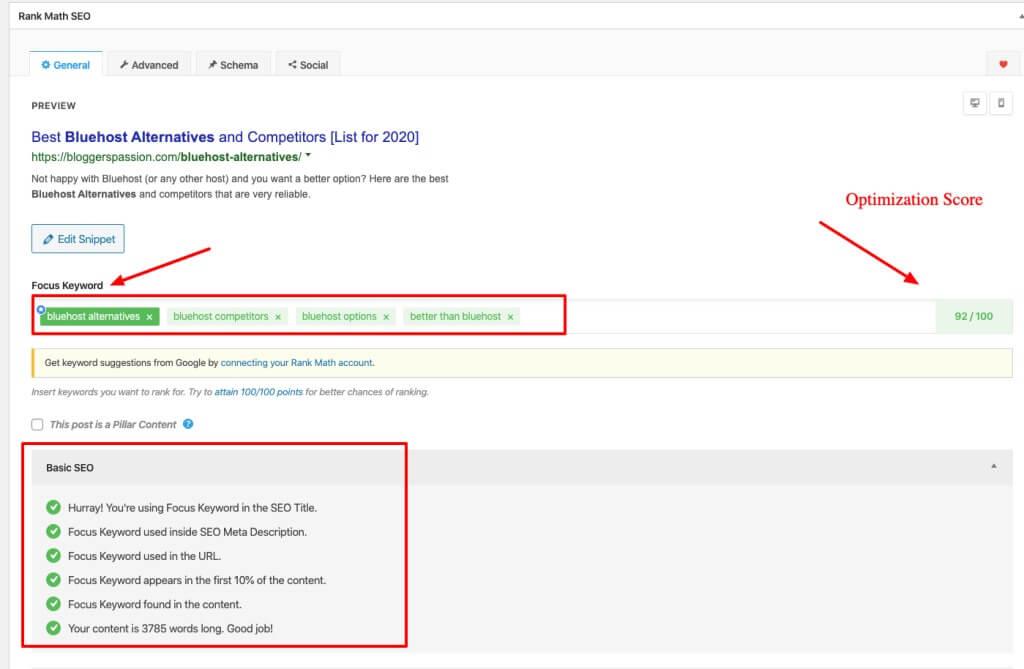 As shown, the following items are displayed:
View preview of the post (it is possible to add and edit the title and meta description of the page)
Main keywords (the main keyword around which the page content is created)
Basic SEO Tips (Suggestions for Adding Keywords)
Optimization score (your content will be given a score that you can easily find out about the page optimization rate)
It is also possible to preview content links on social networks. Using this section, you can customize the type of link display on social networks.
Advantages and Disadvantages of Rank Math
This review of the Rank Math plugin will certainly not be complete without stating its benefits and limitations. Here are the most important advantages and disadvantages of Rank Math plugin.
Rank Math Benefits:
Rank Math plugin is very easy to use and there is a creative way to use it
It is possible to transfer Yoast SEO and AIO data to Rank Math automatically
has a free version
Integrates with Google Search Console and displays a variety of reports such as Crawl issues from the WordPress Dashboard
is a light plugin (in other words, it does not negatively affect the speed of the site)
Rich Snippet implementation available (no other plugin required)
has active forums
has a redirect module
Content optimization is possible for almost countless keywords
Compatible with almost all WordPress templates
It is possible to add ALT tags to images automatically
Rank Math Disadvantages
It is not possible to transfer data from some SEO plugins such as SmartCrawl (in this case data transfer will face many problems)
Frequently Asked Questions About Rank Math SEO Plugin
Here are the most frequently asked questions about Rank Math.
Do I need to remove other SEO plugins to install the Rank Math plugin?
Yes. If you use SEO plugins like Yoast SEO and AIO, you should disable them first. Rank Math is a comprehensive plugin for internal site optimization. It is also possible to transfer data from Yoast SEO and AIO.
What is the difference between Free Rank Math and Rank Math Pro?
Free Rank Math Plugin is a great plugin if you want to optimize content for keywords. But if you need more features like tracking keyword rankings, SEO images, 404 error monitoring and advanced redirects, you should get the Rank Math Pro plugin.
What is the difference between Rank Math Pro and Rank Math Business?
There is practically no difference and if you create an account from Rank Math site, it is only possible to follow the rank in more keywords in Rank Math Business. Please note that Rank Math Pro published in Radzad can be installed on countless websites.
Is it possible to test the Rank Math plugin for free?
The Rank Math plugin is also available in the free version and is probably enough for amateurs who just want to install an SEO plugin. But if you are looking for more features and better SEO for your site, we recommend the Pro version of the Rank Math plugin.
Rank Math or Yoast SEO: Which is better?
Rank Math is a better plugin because it gives you almost everything you need in your site's internal SEO. Rank Math Pro also has great features that help optimize your site. Features such as tracking keyword rankings that do not exist in Yoast SEO. Rank Math in both the free and Pro versions is clearly a notch above Yoast SEO.
Is it easy to migrate from other plugins to Rank Math plugin?
Yes, this is very easy. After installing the Rank Math plugin, other supported SEO plugins are identified quickly and automatically. Then you can transfer all the settings of those plugins to Rank Math in steps. Currently supported plugins include:
Yoast SEO
AIO plugin
SEOPress SEO
All In One Schema Rich Snippets
Redirection plugin
What do I do if I need help using it?
If you need help working with the Rank Math plugin, in addition to supporting Radzad and asking questions through the comments on this page, you can also visit the following pages:
Summary about Rank Math plugin
Whether you are a novice blogger or an SEO professional, the Rank Math plugin will definitely help you build a better site.
So far, we have introduced and even taught many SEO plugins on Radzad's website, but it is definitely the Rank Math plugin by far the best SEO plugin.